Scrap Gold Blog
Published Friday 27th November 2009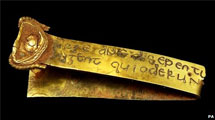 A gold hoard of more than 1500 individual gold and silver pieces has been discovered by an armature metal detector enthusiast in a field near Burntwood, Staffordshire - approximately 15 miles from our Scrap Gold offices in Birmingham.
The collect consists of 5kg of gold and 2.5kg of silver comprises of weapons and helmet decorations, coins and Christian crosses and is through to be the spoils from a 7th century raiding party of warring Mercian's.
While the treasure has remained buried beneath the soil for more than 1,300 years, it's certainly not considered scrap gold!
The find was first put on display in Birmingham before a final evaluation on the find this week put its value at £3.285 million. Birmingham City council now hope to acquire the treasure to put on permanent public display and are currently raising money to complete the purchase.
The find site remains a secret as archaeologists and a specialist search team from the Home Office scour the field for further discoveries though to date nothing further has been found. Experts think the treasure was brought closer to the surface this year as the field was ploughed deeper than usual.
Read More
---
Published Wednesday 25th November 2009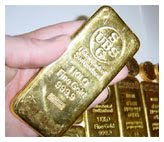 The ongoing and relentless surge in the price of gold continues to draw interest from all areas. This week the world famous Harrods of London have taken High Street shopping to a new level with its decision to start selling physical gold bars and coins direct from its Knightsbridge store.
The very fact that Harrods have made such a move to stock such high risk and valuable items demonstrates the huge demand for gold bars and coins in the everyday shopping market and the ongoing gold price climb hasn't deterred would-be investors from buying either - indicating many people feel the price will continue to rocket for some time and that gold is the preferred secure investment for many.
Harrods have undertaken a full range of gold bars and coins, ranging from 1 gram gold bars and a selection of gold sovereign coins right through to 12.5kg gold bars with a current market value of approximately £312,531.
To say the products are available off the shelf isn't strictly true - customers will need to visit the lower ground floor Harrods Bank where a display is available behind a secure reinforced glass wall. Anyone looking to make an investment in gold should visit sister company, The Gold Bullion Company before heading over to Harrods - The Gold Bullion Company supply a wide range of gold bullion bars and coins for secure next day courier delivery direct to your door.
If you happen to have any old Scrap Gold to sell before you make your purchase, don't forget to head over to our Scrap Gold Calculator to check out how much it's worth.
Read More
---
Published Tuesday 24th November 2009
In recent weeks it has come to our attention that several of our competitors have been actively using the Scrap Gold UK brand as a deceptive marketing tool, looking to profit from our success and position of trust within the industry.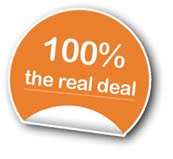 Scrap Gold are one of the original on-line Scrap Gold buyers with offices in the Birmingham Jewellery Quarter and thousands of satisfied customers, so it's no surprise competitors see us as their main competition!
You may have seen Google adverts with titles similar to Scrap Gold UK which when clicked deliver users to other websites - We're not going to point fingers and name specific companies but would like to stress to all customers that if you are looking for Scrap Gold UK, either search for us directly or check the web address below the advert and ensure you will be delivered to www.scrapgolduk.co.uk.
If you are unsure and would like to speak to us directly, please call Scrap Gold UK on 0121 523 1046.
Read More
---