Looking for the Real Deal?
Published Tuesday 24th November 2009
In recent weeks it has come to our attention that several of our competitors have been actively using the Scrap Gold UK brand as a deceptive marketing tool, looking to profit from our success and position of trust within the industry.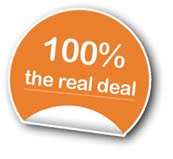 Scrap Gold are one of the original on-line Scrap Gold buyers with offices in the Birmingham Jewellery Quarter and thousands of satisfied customers, so it's no surprise competitors see us as their main competition!
You may have seen Google adverts with titles similar to Scrap Gold UK which when clicked deliver users to other websites - We're not going to point fingers and name specific companies but would like to stress to all customers that if you are looking for Scrap Gold UK, either search for us directly or check the web address below the advert and ensure you will be delivered to www.scrapgolduk.co.uk.
If you are unsure and would like to speak to us directly, please call Scrap Gold UK on 0121 523 1046.