Gold Demand Reaches the High Street
Published Wednesday 25th November 2009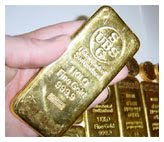 The ongoing and relentless surge in the price of gold continues to draw interest from all areas. This week the world famous Harrods of London have taken High Street shopping to a new level with its decision to start selling physical gold bars and coins direct from its Knightsbridge store.
The very fact that Harrods have made such a move to stock such high risk and valuable items demonstrates the huge demand for gold bars and coins in the everyday shopping market and the ongoing gold price climb hasn't deterred would-be investors from buying either - indicating many people feel the price will continue to rocket for some time and that gold is the preferred secure investment for many.
Harrods have undertaken a full range of gold bars and coins, ranging from 1 gram gold bars and a selection of gold sovereign coins right through to 12.5kg gold bars with a current market value of approximately £312,531.
To say the products are available off the shelf isn't strictly true - customers will need to visit the lower ground floor Harrods Bank where a display is available behind a secure reinforced glass wall. Anyone looking to make an investment in gold should visit sister company, The Gold Bullion Company before heading over to Harrods - The Gold Bullion Company supply a wide range of gold bullion bars and coins for secure next day courier delivery direct to your door.
If you happen to have any old Scrap Gold to sell before you make your purchase, don't forget to head over to our Scrap Gold Calculator to check out how much it's worth.