Scrap Gold Blog
Published Thursday 12th November 2020
As the latest Covid Lock-Down in England adds to the restrictions that are already in force, to varying degrees, in all parts of the United Kingdom, we wish to re-assure our customers that we are still open for business.
We have very strict protocols in place to keep our members of staff safe in the workplace and business continues, albeit not as usual.
We are still receiving packages sent to us by insured Royal Mail Special Delivery and for higher value sales we are able to make Covid-secure arrangements to receive personally delivered consignments, strictly by appointment only and subject to compliance with our protocols. Please call for details if you wish to visit us to sell items.
For clients that are self-isolating or unwilling to visit a Post Office, the new Royal Mail Collect service may be of interest. It is now possible to have insured Special Delivery parcels collected from your home or workplace by Royal Mail for a small additional fee. Visit Royal Mail Parcel Collect Service for details. (Select large letter or small parcel, depending on the weight of your items and select Special Delivery service with an insurance level that covers the contents.) We strongly recommend that a tamper-proof Royal Mail Special Delivery pouch is used when sending precious metals through the post. These pouches are available free of charge from a Post Office. If you are unable to access a Post Office to collect a pouch we will be happy to post a selling kit out to you, just give us a call.
The recent news that a Covid vaccine could be available in the near future seems to have given the Nation a glimmer of hope that 2021 could see the lifting of many of the restrictions that we are currently enduring. We all hope to see improvements in the situation which will allow as social a Christmas period as possible.
In the meantime, please follow the rules that apply to your particular area and Stay Safe.
The Team at ScrapGoldUK
Read More
---
Published Monday 2nd November 2020
When you plan to sell with Scrap Gold UK, you know you'll get a fair price for your scrap gold or silver. Our word is our bond, and worth its weight in gold. We've got the Scrap Gold Calculator to calculate it.
At a time when precious metals prices are elevated, any scrap gold or silver lying around your home could fetch a hefty sum. However, not all buyers offer a fair price for it, for a number of reasons. Scrap Gold UK is as up-front as possible. Here, we explain why.
Easy to calculate a fair price
As prices have risen for precious metals, the number of unscrupulous or even fraudulent gold buyers is on the rise. This phenomenon occurred during the last precious metals bull market in the 2000s, and we know the signs.
Sites purport to offer an easy opportunity to sell scrap gold and silver, but keep customers in the dark about the vital information they actually need - accurate prices and rates, consistent contact information and a way of meeting in person if possible (when restrictions are eased). That's not right, and Scrap Gold UK believes in doing things in an above-board manner, with as much clarity as possible.
The price of gold changes all the time, subject to market forces. Timing is everything, so you'll want to avoid selling when the price is low. Scrap Gold UK's website has a special Live Gold Tracker, letting you see how prices change over the course of a day.
The price of gold has doubled in the last five years, boosting the chances of making a respectable sum from a sale. By using our Scrap Gold Calculator, you could see today's price of £16.72 per gram with a piece of 9-carat gold. With us, you'll be in no doubt about precisely what your item could be worth, with just a few short clicks. No second-guessing - just the clear numbers in black and white.
Secure sales in digital form
Scrap Gold UK is able to offer such generous prices for a good reason. We don't have the same overheads that many buyers have, allowing us to give you a fairer price for your gold or silver. Our sales are handled digitally, making the process streamlined, secure and modern. Your items are safe with us.
The process is as follows - value your gold first. If you're happy with the price, it's time to fill in our Sell Your Gold Form. Once printed off, we'll give you a unique reference number for your items. Place the items in a parcel with the signed form. For security reasons, avoid mention of anything to do with the contents on the outside of the parcel.

If you would like peace of mind, you can even track your parcel in transit. Once your items have been received safely by us, we will value them and make you an offer. Your payment will be made direct to your bank account on the same day. If you're new to selling gold or silver, don't worry. Our team is friendly and approachable, ready to help with any enquiry you may have.

To get in touch, call us on 01902 828 400, in case you wish to make a sale or have any questions about a potential sale. We look forward to helping you.
Read More
---
Published Thursday 1st October 2020
Gold rushes are no longer consigned to the history books. 2020 is a year of repeated record highs for the yellow metal, with gold surging above the major price level of £1,500 for the first time this summer. Supply of gold is tightening as investors increase holdings to protect their money in the event of market turbulence, helping maintain an effective price floor for gold moving forward.
This period of exceptionally high gold prices is triggering people to realise the gains of what little gold that remains in the world, making 2020 an ideal time to consider selling gold. The turbulence caused by COVID-19 and the lockdown that has ensued has triggered a once-in-a-lifetime rally in precious metals, so let's see how people are making the most of it.
Lucky men strike gold Down Under
Australia played host to one of history's greatest gold rushes in the 1860s, so it's no surprise to see the news that two men uncovered sizable nuggets of gold near the town of Tarnagulla in central Victoria, Australia back in August. Victoria is renowned for its vast gold fields which were discovered back in the 1850s, with acres of so-called virgin territory, just waiting for eager miners to find fresh seams of gold.
In scenes broadcast on UK and Australian television, the two men found nuggets with a combined weight of 3.5kg. On paper, such a vast amount of gold could easily earn as much as A$350,000 when the nuggets come to be sold. Despite their mottled appearance, the two nuggets found in Australia last month reflect the lasting value of gold itself. Few precious metals can boast such a high valuation for their relative size.
This just goes to show how gold can come in all shapes and sizes, and still yield a large sum of money. The only question is, who do you turn to, if you have gold and wish to sell, but you want to receive the right price for it?
Scrap Gold UK is here to help.
UK Scrap Gold - here for the 2020 gold rush
The 2020 gold rush has been breath-taking for us to watch at Scrap Gold UK. A troy ounce of gold used to be worth £700 back in 2015, so seeing the price of gold now hitting £1,500 in 2020 has blown all expectations out of the water.
If you have any scrap gold lying around, you could be sitting on a literal fortune, based on the last five years' worth of price increases for gold. Scrap Gold UK is the ideal buyer to turn to, in order to facilitate a swift and secure sale of scrap gold in 2020, as we are specialists in this field, having done so for many years.
As of late September 2020, just one gram of 9-carat gold could yield as much as £16.99, if you sold your item with Scrap Gold UK today. Why wait? If you have an item you wish to sell today, don't hesitate to contact us. Call us on 01902 828 400 or contact us here to make a golden dividend with your scrap gold.
Read More
---
Published Wednesday 9th September 2020
When the Chancellor announced the UK was entering a recession in early August he predicted "tough times ahead" for the UK. While the UK is in the early days of what could prove its most damaging recession ever, gold prices are going through the roof and have been trending close to record prices for the last few months.
This means that those with the ability to sell scrap gold that's gathering dust in an old drawer, or on a vanity table, could be missing out on a potential windfall, which could tide you over during these tough times.
Gold prices and economy move in opposite directions
Gold prices have been trending generally upward for a long time. The price of gold has almost doubled over the last decade, and prices have exploded this year, rising by as much as 30 per cent. This is good news for the seller in an otherwise tough economy.
2020 has been a strange year to put it particularly mildly. Britons have had their freedom of movement limited for the first time since the world wars of the 20th Century, and the ensuing global pandemic triggered recession has left many jobs at risk.
Meanwhile in the first week of August gold prices reached their highest ever mark. Precious metal commentators have long awaited the day that gold would eclipse the $2,000 per troy ounce – or £1,500 in sterling – price point, as prices consistently surged higher and higher. Gold is currently trending in the high $1,900s. Today, 2nd September, gold prices are £1,464.23 per troy ounce, while at the beginning of August they were at a record high of £1,508
Check the current gold price with our Live Gold Prices Chart, here you can see the how the gold price is trending over a timespan of your choice from 10 minutes to 5 years
Could gold prices continue to reach new heights?
It is quite possible that gold prices will continue to rise. Gold often holds its value or increases in value during times of crisis and poor economic performance, but for investors, there is no guarantee.
Some analysts are making bold predictions at the present time. Frank Holmes, CEO at investment firm U.S Global Investors thinks, "It's quite easy to see gold going to $4,000." Analysts point to prices rising to this level in the next three years, however, factors like the development of a COVID-19 vaccine and the US 2020 Presidential Election could change forecasts quickly.
Sell your scrap gold in 2020
As gold prices are at historic highs, it's a seller's market right now. Should you have any unwanted gold items at home you could stand to make a not inconsiderable sum from selling your scrap gold. You might think that you don't have any valuable gold at home, especially unwanted gold, but did you know that just one gram of 9 Carat gold will currently fetch you £16.53? For instance, at current prices, we could offer £49.59 for a 3 gram necklace.
Discover how much your gold could be worth with our easy to use gold calculator.
How to sell scrap gold
In just three quick steps you can sell your scrap gold to Scrap Gold UK. You'll receive your sale proceeds on the same day we receive your gold.
Use our Scrap Gold Calculator to value your gold items. We accept jewellery, bars, and coins in gold, silver, platinum, and palladium.
If you are satisfied with your estimated gold price, complete the Sell Your Gold Form, and package your items and form in a secure jiffy bag. We recommend our clients use a Royal Mail Special Delivery tamper-proof envelope. See our full delivery details for safety precautions and our address.
We pay out via bank transfer or cheque. You'll receive your funds on the day we receive your items.
Selling with Scrap Gold UK
To learn more about selling your unwanted scrap gold, contact us. You can call our team on 01902 828 400 today.
We'll also happily invite you to meet us face-to-face in our Wolverhampton offices to discuss your items.
Call us on 01902 828 400 to book an appointment.
Read More
---
Published Thursday 30th July 2020
When Covid – 19 hit in March we made the decision to keep working for as long as possible and furloughed non-essential staff where we could. Our staff members have been amazing during this crisis. Despite the imposition of lock-down, social distancing and hygiene requirements they have soldiered on and handled unprecedented demand from our customers.
We have now arrived at the point where, frankly, our team need to take a break. Rather than rotating individuals onto annual leave and putting more pressure on the remaining staff members as a result, we have decided to close our offices for a full week so that everyone can get some much needed rest and the opportunity to re-connect with family and friends. As lockdown measures are now starting to ease we think that August would be the best time to take this break.
As a result, our offices will be closed from 3pm Friday 7th August 2020 and will re-open at 9am on Monday 17th August 2020.
During this period our offices will be unable to accept deliveries and any parcels addressed to us will remain in the postal system until our return to work.
PLEASE DO NOT SEND PARCELS TO US FOR DELIVERY DURING OUR OFFICE CLOSURE.
We would encourage all of our customers to make any planned sales during the next week to avoid delays in processing.
Whilst we appreciate that these arrangements may cause some inconvenience, for which we apologise, the wellbeing of our staff members and our ability to continue to provide outstanding service to our customers in the months ahead are of great importance to us.
A huge 'Thank You' to all of our customers, old and new, for your loyalty, patience and continued support during these unprecedented times and for the many emails and even letters of appreciation that we have received.
Stay safe and well, it is by no means over yet!
The Team at Scrap Gold UK
Read More
---
Published Monday 20th July 2020
Gold places first, silver comes second… This is how these precious metals are typically perceived in the market when it comes to both value and demand.
However, silver has recently begun to dominate the headlines due to a significant increase in demand and in July 2020 it reached its highest price in recent years.
What's driving the rise in the silver price?
The price of silver has risen 66 per cent since March 2020 when its lowest point was recorded, as reported by the Wall Street Journal. Now hitting $19.50 a troy ounce in New York, experts are certain that the market could erupt at any time. So what is the reason for this surge in demand?
Silver is typically seen as a good investment, particularly during an economic downturn. This is a likely motivating factor behind the historical level of silver purchases made via exchange-traded funds (ETFs) over the past couple of months.
But industry also has a role to play in the silver price rise. With lockdown measures being relaxed, we are seeing factories start to reopen and production is returning to normal levels – albeit slowly.
With more production taking place, comes more demand for materials. Out of all of the precious metals, silver is sought after as an industrial metal because it is reflective and is used to create many technology devices.
Taking these factors into consideration, we would expect the rise in demand for silver to be directly caused by both the increase in factory productivity and the economic downturn.
Look for the silver lining
It is difficult to predict when this increased demand for silver will end and as always we won't know we've reached the peak of the price point until we're on the way down again.
With this in mind, there's no time like the present to look at your portfolio. If in doing so you consider selling some silver, it is important to know which silver items are worth the time and effort of selling.

Gold jewellery tends to offer a decent cash sum upon sale even in smaller volumes. However, silver is a different matter. While its value might be on the rise, it is still notably lower than that of gold so you really won't see much of a return unless you're looking at selling significant quantities of the precious metal.

That does not mean all hope is lost when it comes to getting a good price for your silver portfolio. Owning a collection of silver coins and silver bullion bars poses an opportunity for selling at a competitive price as these items contain more pure metal and are of a substantial weight.
Selling silver with Scrap Gold UK
When it comes to researching for new ways to sell silver, you should not dismiss scrap gold companies.
Scrap Gold UK was founded in the world famous Birmingham Jewellery Quarter and offers competitive rates for precious metals, including silver and gold. Our online Scrap Silver Calculator offers a free valuation in two quick and easy steps; all you need to provide is the weight in grams and purity of the metal.
For more information about capitalising on your scrap silver, feel free to call our Customer Service Team on 01902 828 400 - customer satisfaction is our number one priority.
Read More
---
Published Wednesday 1st July 2020
In the current lockdown climate, many of us are working from home. That rainy day you've been waiting for to declutter and tidy up? It's today. And any unwanted items you find containing gold could be worth quite a bit as the gold prices run high amid global turmoil.
"One man's trash is another man's treasure"
As we enter the peak of the UK's summer months, this doesn't mean it is too late to get into your spare bedrooms and attic to finally begin that well overdue spring clear-out.
Decluttering is good for us on an individual level as we benefit from the clarity that clearing out provides. But it could also help your financial health if you uncover unwanted gold treasures.
You may even be sitting on a small fortune without even realising, as what may initially seem to be old junk could actually be more valuable than you think, if sold to the right person.
The trick is to think outside the box and make sure you examine your unused items thoroughly before throwing them away. There are the more obvious finds, such as old, broken pieces of jewellery and watches, but many older household items such as cutlery and trinket boxes can also contain precious metals.
You could even capitalise on the trend of fake gold teeth growing more popular again in recent years! Gold dental fillings and fake teeth can also be traded in for extra cash (however, we do not recommend attempting any kind of DIY dental work at home!).
It is worth getting in touch with one of the Scrap Gold UK experts if you are hesitant and would like some further guidance on identifying valuable scrap gold, before sending it off to landfill, as you never know what you might be missing out on.
Gold prices in 2020
There's no denying it; gold is doing well in 2020. In May 2020, Schroders reported that gold has outshone all major asset classes with a year-to-date total return of 11.3 per cent, a backdrop caused by the COVID-19 pandemic.
Investors see gold as a store of wealth, due to its unique properties and limited supply. Whilst other financial assets are deteriorating in value, there are predictions that the value of gold could increase even more.
As lockdown measures begin to relax across different parts of the UK, there is no better time to sort through your personal belongings. Without needing to do any additional work, you will benefit not only from decluttering your home but your scrap gold could potentially be worth a greater value than the usual buying price during this economic downturn.
Selling with Scrap Gold UK
You may now be asking, "well, what do I do with all of these items?" Even if you are not an expert in valuing gold, our specialist team at Scrap Gold UK are here to help. It is important to confirm that the items you are looking to sell do contain real gold, silver or other valuable metals because if they are fake they will not have value.
Our online Gold Scrap Calculator offers a free valuation in two quick easy steps. All you need to know is the weight of the metal in grams and the carat – or purity – of the metal.
Scrap Gold UK also offer live and historic price per gram data for gold, silver and other valuable metals. We recommend using these online tools to ensure you are getting the best value for your items when selling scrap gold.
For more information about recycling your scrap gold, feel free to call our Customer Service Team on 01902 828 400, we are here to help.
Read More
---
Published Monday 27th April 2020
We are buying scrap precious metals again as the processing section of our industry begins to recover after the recent shutdown.

Please send your items to us by Insured Royal Mail Special Delivery, this is the only delivery method that we recommend and is very reliable.

We are currently still unable to accept appointments at our offices due to Social Distancing requirements.

Pressures on the Royal Mail delivery system are such that parcels may take longer to arrive than usual but they are getting to us and can be insured up to a value of £2,500 each.

We are operating with reduced staff and aim to process your items and contact you with an offer within two working days of receiving your parcel.
Read More
---
Published Monday 30th March 2020
As the number of COVID-19 cases continues to mount and an increasing number of us stay at home, in order to flatten the curve of new cases, it's likely that we'll start to pay closer attention to our immediate surroundings.
Many of us might have a bit of gold lying around, whether that's in the form of old jewellery or some item which you intended to scrap years ago. If you still have it with you, now could be the best time to get an accurate valuation, so you can prepare to sell it at the next best opportunity.
Learn how to value your scrap gold from the safety and comfort of your own home, with Scrap Gold UK today.
Valuations of gold have never been so easy
Traditionally, Scrap Gold UK encourages customers to make sales, posting any gold items directly to us. With the number of COVID-19 cases rising above 25,150 this week as of 31st March, we've suspended this service and won't be accepting items after Friday 20th March, until further notice.
Apologies for any inconvenience, but we believe this is the best strategy, to ensure the safety of our customers, and to avoid the unnecessary risk of loss of items in transit, in the event that the postal system or our offices are forced to close, while the pandemic remains an issue.
But that doesn't mean you can't get a good valuation - in fact, our site has its very own Scrap Gold Calculator. If you have to remain house-bound for the next few weeks, you don't have to set foot outside your home in order to see what your items might be worth today.
All you need to know is the weight and carat (purity) of your item, and that should be enough to help calculate what you could make from a gold scrap sale. Gold prices are high at present - the economic turmoil of a global pandemic means that the coming months could be the best time in history to consider selling gold.
One gram of 9-carat gold could yield as much as £15, so just imagine what you could make, from a larger item with a higher purity.
Recycling old gold to maximise value
The pandemic means pausing our full service for the time being, but be assured that Scrap Gold UK expects to reinstate it as soon as possible. Not only will we reinstate the sale of scrap gold items, when this happens. We are specialists in maximising the value of gold, especially when it comes to recycling.
Did you know that gold jewellery has VAT applied to it but investment gold products are VAT-free?
By selling your scrap gold items to us, you can reinvest the proceeds towards an investment gold item, such as gold bars or coins, helping you store your wealth effectively, as gold prices remain high.
If you are considering purchasing gold bars or coins then take a look at our sister website The Gold Bullion Company for some ideas on what is available.
Read More
---
Published Tuesday 3rd March 2020
You may be surprised by the range of unused or unwanted items that contain precious metal and can generate some extra cash if you decide to sell.
While most people realise there is money to be made from broken gold jewellery and items they will never wear again, there are actually a number of things that you may have tucked away and forgotten about that we will buy and convert into cash.
Gold and silver watches are often overlooked, whether they are old fashioned fob and pocket watches or watches with gold or silver straps. They're the kind of thing that often gets shoved to the back of a drawer when the movement breaks, with the intention that one day you'll get them fixed, but you never do.
When selling gold and silver watches, remember that the weight of the item includes the glass and workings of the watch, which are not counted when it's being valued for the precious metal it contains.
Old gold and silver coins that you may have collected or had passed down by relatives are also currently fetching strong prices, due to the current strong prices per ounce that gold is attracting. If you have any pre-1920 UK silver coins, they are 92.5 per cent silver and pre-1947 silver coinage contains 50 per cent silver. These can be cashed in as well.
Many people do not realise that they may be sitting on a tidy sum in the form of silver household items, again many of which they have inherited and squirrelled away in the loft. We buy silver tableware, cutlery, salt and pepper pots and bowls, along with silver picture frames, candlesticks, boxes and pens.
The recent reduction in the number of people who smoke means that there are a great many gold and silver cigarette cases and even cigarette lighters and holders that will never be used again but they still have a value due to their precious metal content.
It's actually surprising just how many daily items used to be fashioned from silver, but in order to sell them for the precious metal they contain, they must be silver items – not silver plated or EPNS silverware.
Take some time to hunt in the back of those seldom opened cupboards, or those long-forgotten boxes in the attic. There are valuable little gems just waiting to be re-discovered.
 If you are unsure whether the items that you find would be of interest to us, feel free to call our Customer Service Team on 01902 828 400, we are here to help.
Read More
---
Published Tuesday 3rd March 2020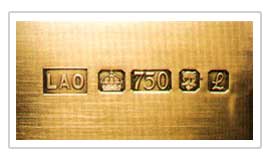 Hallmarks date back over 700 years to the fourth century AD and were introduced by the Byzantine Empire as a standard to identify silver - their most precious alloy - through a series of punch marks in the metals surface, clearly indicating to the holder a guarantee of authenticity and purity.
In the UK, since 1300 the law has required anyone manufacturing gold or silver metal to ensure an accurate and legible hallmark is stamped on the item to provide an instant identification of the items purity and origin. The Hallmarking Act of 1973 introduced further guidelines to clarify the process of identifying the item's manufacturer and make-up and to introduce a structure for hallmarking platinum metals. As of January 1999, all UK manufactured gold, silver and platinum must be identified with the marker or Sponsors mark, the assay office mark and the fineness code.
Read More
---
Published Monday 2nd March 2020
When we receive your old, unwanted or broken gold jewellery for recycling, it's just the start of a journey to create new gold items.
The first step is to discover the value of the gold in the pieces. They are sorted into different carats – the higher the carat number, the more valuable the gold – and weighed. This is how we calculate the price that we offer for your items, based on the up-to-the-minute gold price per troy ounce.
When the gold pieces have been sorted, it's time to smelt them. When the gold is placed in a furnace at a very high heat, it melts and can be cooled down in blocks or ingots, ready to be sold on for refining and reuse. 

The beauty of gold is that it can be reused time and time again without losing any of its properties and therefore its value. It's likely that modern gold jewellery pieces that you cherish contain gold that has gone through this process, possibly several times – and the precious metal itself may have actually been mined decades, if not centuries ago.
Recycling your gold isn't just good for your bank account, it's also good news for the environment. It's been calculated that for every gold ring made from freshly-mined metal, around 20 tonnes of toxic waste is generated, because of the chemicals that are used in the gold mining industry. This is one reason why many people will only buy 'ethical gold' nowadays.
Currently, around a third of the gold that is needed every year comes from recycled supplies – whether that is to make new jewellery, gold bars, ingots and coins for investors, or for use in technology such as smartphones and laptops.
By hunting through your unwanted gold items at home and selling them on for cash, you'll be playing your part in increasing the proportion of 'old' gold that's available to use again – and helping the environment at the same time.
If you are unsure whether the items that you find would be suitable for recycling, feel free to call our Customer Service Team on 01902 828 400, we are here to help.
Read More
---
Published Friday 28th February 2020
Much is made of silver being gold's cheaper cousin. The two precious metals are highly similar, yet gold has always been considered the more valuable of the two. But don't let silver's apparent cheapness fool you.
Over the last fifty years, scrap silver prices have occasionally reached points of peak undervaluation relative to gold, before prices invariably returned to their long-term averages. As a result, scrap silver has been known to make significant gains, in spite of its apparent low value from time to time. Scrap silver could make you a fortune, if you're fortunate enough to have any lying around and the price is suddenly right.

Scrap silver could rebound soon
The past half-century has seen scrap gold and silver prices oscillate between the two extremes of either one or the other being significantly under or overvalued relative to the other. Looking at the trend over a long enough period of time, the two metals appear to zigzag in value relative to one another.
The fluctuations in value might be long-term, but the adjustment back to a fair value for both metals can be both sudden and enormously beneficial, depending on which metal you possess at the time and when you choose to sell it.
Fortunately for anyone with a bit of scrap silver tucked away, 2020 is an ideal time to consider selling. Silver is looking poised for a significant price rally, which will lead to scrap silver becoming even more valuable in relation to gold.
Got some silver cutlery gathering dust in a drawer? It could be worth a great deal. Or perhaps there's an old piece of silver jewellery, some heirloom you've been meaning to sell for years? It could be sold, recycled and turned into some quick and easy cash with the help of Scrap Gold UK.
Scrap silver: what's it worth?
As of late February 2020, 20 grams of 999.0 purity silver is worth as much as £7.16. Just think how much an even larger amount could be worth if you chose to sell with Scrap Gold UK today! Check out what your scrap silver could be worth by checking out our scrap silver calculator.
Since April 2011, silver prices seem to have entered what investors call a secular bear market - this is a period of up to a decade or more in which prices are in a clear downtrend. As of early 2020, silver has halved in value since its great 2011 peak.
But don't let the apparent low value of silver fool you. While gold has been renowned for its explosive price rallies in the past, scrap silver prices are far more volatile than are those of gold, because of the higher industrial demand for the former. That piece of silver jewellery and any other items of scrap silver you've got lying around could become far more valuable than they were last year.
If you're ready to make a sale of scrap silver today, fill in our seller form. Alternatively, if you wish to discuss a possible sale of scrap gold, don't hesitate to contact Scrap Gold UK by calling 01902 828 400.
Read More
---
Published Tuesday 28th January 2020
You would think that anyone who found a piece of scrap gold in their home would see the great value it holds within. Gold is one of the most valuable of all the precious metals, as purer examples of it hardly oxidise at all.
For centuries, people have placed great value in gold, and with higher prices in 2020, it makes sense to consider freeing up some cash, by selling your scrap gold. Despite its great value, gold is increasingly being thrown away in our weekly rubbish collections, meaning so many of us are missing out.
Bags of gold thrown away
Over the past few years, waste disposal companies have approached us, reporting that they have found quantities of scrap gold, with no clear way of working out who it belongs to or whether people threw it all away intentionally or by accident.
Whatever the cause, the amount of gold discovered by waste management companies could equal a small fortune - whether lost, thrown away in landfill or found by someone else who goes on to make a sale.
In recent months, we've reported on how families with large sums of scrap gold in their homes have resorted to selling treasured family heirlooms, for fear of being the targets of theft.
Not only that, but we revealed how the Japanese were able to take millions of old smartphones and devices, recycling enough gold to produce thousands of medals for the 2020 Tokyo Olympics.
If you have unwanted scrap gold, it would be far more worthwhile to hold onto it while you get a valuation.
Sell your scrap gold with us
Fortunately, Scrap Gold UK has just what you need, if you're curious about selling some scrap gold today.
Our scrap gold calculator can give you a quick and easy valuation, without you even having to post your items. All it takes is a few clicks and a rough idea about the purity and weight of the scrap gold you've got. See how high current prices are - at the time of writing, a gram of 9-carat gold could earn you as much as £14.16.
If you've got a substantial number of items suitable for scrap, made of gold, they'll probably be worth significantly more than this figure - why not try the calculator today, to see what it's all worth?
If you're still wavering about making a sale, just remember that gold prices have rarely been so high, and it makes sense to take advantage of this peak, to maximise the value of any sale you're considering making. Once you're ready to go, remember to fill in this easy-to-use seller form.
If this is your first time selling scrap gold, it might be good to have a chat on the phone, just to outline what could be gained from selling with Scrap Gold UK today. Feel free to ring us on 01902 828 400.
Read More
---
Published Friday 20th December 2019
2019 has been a rollercoaster of a year for many. The gold markets have had something of a rollercoaster ride themselves, this year. Despite prices falling since September, anyone wishing to sell a bit of scrap gold this Christmas could find themselves still making handsome gains, given the yellow metal's consistently solid performance during the year.
As we enter into a new decade, it makes sense to take a look at any scrap gold you might have lying around, and find a way to convert that into some easy cash, and even help recycle it into something else entirely.
Read on to learn about why Christmas 2019 is a golden time to sell scrap gold.
Good as gold this Christmas
Gold was one of the three great gifts in the Nativity story for a reason - even since ancient times, the yellow metal has been seen as a precious metal, fit for a king. Its value has stood the test of time, and if you have any unwanted gold today, it could be just what you need to make a nice bit of money to splash out this festive season.
Prices have held around the £1,134 per troy ounce mark for a few days, but this remains over 10 per cent higher than it was last Christmas, making it a perfect time to sell.
Scrap Gold UK can help you work out how much your item could be worth in just a few short clicks. Try out our Scrap Gold Calculator - it just needs to know the weight and purity of your item in carat. This helps it calculate what you could expect to make, without having to send it in the post.
Wondering how to work out the carat? Check if the item has a stamp of some kind, as gold specialists often leave a stamp or mark, indicating its carat, from 9 to 24. The higher the carat, the higher the purity, and the higher the potential value.
Recycling your gold at Christmas
We can offer as much as £13.27 for just a one-gram piece of 9-carat gold. Imagine what you can expect to make, from an even larger item, with a greater purity.
Recycling your gold for scrap could be the best thing to do this Christmas, as gold is so rare to find in nature. It has been said that all the world's gold could be melted down and moulded into a cube that could fit under the Eiffel Tower.
With only so much gold to go around, any unwanted item of gold jewellery doesn't have to sit idle - you could be selling it to us for a great price, and help get it melted down and reshaped into something new entirely, keeping the flow of gold steady for those that want it.
If you're ready to sell, complete this form to get started - please note that we will be closed between 23rd December and 2nd January, if you wish to make an enquiry during the festive period.
Contact us today, if you're considering selling some unwanted gold, but need to know a little bit more about what you could gain from selling to us.
Have a Merry Christmas and a fantastic new year!
Read More
---