Scrap Gold Blog
Published Monday 30th March 2020
As the number of COVID-19 cases continues to mount and an increasing number of us stay at home, in order to flatten the curve of new cases, it's likely that we'll start to pay closer attention to our immediate surroundings.
Many of us might have a bit of gold lying around, whether that's in the form of old jewellery or some item which you intended to scrap years ago. If you still have it with you, now could be the best time to get an accurate valuation, so you can prepare to sell it at the next best opportunity.
Learn how to value your scrap gold from the safety and comfort of your own home, with Scrap Gold UK today.
Valuations of gold have never been so easy
Traditionally, Scrap Gold UK encourages customers to make sales, posting any gold items directly to us. With the number of COVID-19 cases rising above 25,150 this week as of 31st March, we've suspended this service and won't be accepting items after Friday 20th March, until further notice.
Apologies for any inconvenience, but we believe this is the best strategy, to ensure the safety of our customers, and to avoid the unnecessary risk of loss of items in transit, in the event that the postal system or our offices are forced to close, while the pandemic remains an issue.
But that doesn't mean you can't get a good valuation - in fact, our site has its very own Scrap Gold Calculator. If you have to remain house-bound for the next few weeks, you don't have to set foot outside your home in order to see what your items might be worth today.
All you need to know is the weight and carat (purity) of your item, and that should be enough to help calculate what you could make from a gold scrap sale. Gold prices are high at present - the economic turmoil of a global pandemic means that the coming months could be the best time in history to consider selling gold.
One gram of 9-carat gold could yield as much as £15, so just imagine what you could make, from a larger item with a higher purity.
Recycling old gold to maximise value
The pandemic means pausing our full service for the time being, but be assured that Scrap Gold UK expects to reinstate it as soon as possible. Not only will we reinstate the sale of scrap gold items, when this happens. We are specialists in maximising the value of gold, especially when it comes to recycling.
Did you know that gold jewellery has VAT applied to it but investment gold products are VAT-free?
By selling your scrap gold items to us, you can reinvest the proceeds towards an investment gold item, such as gold bars or coins, helping you store your wealth effectively, as gold prices remain high.
If you are considering purchasing gold bars or coins then take a look at our sister website The Gold Bullion Company for some ideas on what is available.
Read More
---
Published Tuesday 3rd March 2020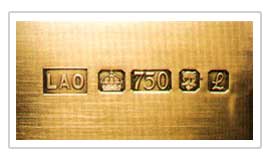 Hallmarks date back over 700 years to the fourth century AD and were introduced by the Byzantine Empire as a standard to identify silver - their most precious alloy - through a series of punch marks in the metals surface, clearly indicating to the holder a guarantee of authenticity and purity.
In the UK, since 1300 the law has required anyone manufacturing gold or silver metal to ensure an accurate and legible hallmark is stamped on the item to provide an instant identification of the items purity and origin. The Hallmarking Act of 1973 introduced further guidelines to clarify the process of identifying the item's manufacturer and make-up and to introduce a structure for hallmarking platinum metals. As of January 1999, all UK manufactured gold, silver and platinum must be identified with the marker or Sponsors mark, the assay office mark and the fineness code.
Read More
---
Published Tuesday 3rd March 2020
You may be surprised by the range of unused or unwanted items that contain precious metal and can generate some extra cash if you decide to sell.
While most people realise there is money to be made from broken gold jewellery and items they will never wear again, there are actually a number of things that you may have tucked away and forgotten about that we will buy and convert into cash.
Gold and silver watches are often overlooked, whether they are old fashioned fob and pocket watches or watches with gold or silver straps. They're the kind of thing that often gets shoved to the back of a drawer when the movement breaks, with the intention that one day you'll get them fixed, but you never do.
When selling gold and silver watches, remember that the weight of the item includes the glass and workings of the watch, which are not counted when it's being valued for the precious metal it contains.
Old gold and silver coins that you may have collected or had passed down by relatives are also currently fetching strong prices, due to the current strong prices per ounce that gold is attracting. If you have any pre-1920 UK silver coins, they are 92.5 per cent silver and pre-1947 silver coinage contains 50 per cent silver. These can be cashed in as well.
Many people do not realise that they may be sitting on a tidy sum in the form of silver household items, again many of which they have inherited and squirrelled away in the loft. We buy silver tableware, cutlery, salt and pepper pots and bowls, along with silver picture frames, candlesticks, boxes and pens.
The recent reduction in the number of people who smoke means that there are a great many gold and silver cigarette cases and even cigarette lighters and holders that will never be used again but they still have a value due to their precious metal content.
It's actually surprising just how many daily items used to be fashioned from silver, but in order to sell them for the precious metal they contain, they must be silver items – not silver plated or EPNS silverware.
Take some time to hunt in the back of those seldom opened cupboards, or those long-forgotten boxes in the attic. There are valuable little gems just waiting to be re-discovered.
 If you are unsure whether the items that you find would be of interest to us, feel free to call our Customer Service Team on 01902 828 400, we are here to help.
Read More
---
Published Monday 2nd March 2020
When we receive your old, unwanted or broken gold jewellery for recycling, it's just the start of a journey to create new gold items.
The first step is to discover the value of the gold in the pieces. They are sorted into different carats – the higher the carat number, the more valuable the gold – and weighed. This is how we calculate the price that we offer for your items, based on the up-to-the-minute gold price per troy ounce.
When the gold pieces have been sorted, it's time to smelt them. When the gold is placed in a furnace at a very high heat, it melts and can be cooled down in blocks or ingots, ready to be sold on for refining and reuse. 

The beauty of gold is that it can be reused time and time again without losing any of its properties and therefore its value. It's likely that modern gold jewellery pieces that you cherish contain gold that has gone through this process, possibly several times – and the precious metal itself may have actually been mined decades, if not centuries ago.
Recycling your gold isn't just good for your bank account, it's also good news for the environment. It's been calculated that for every gold ring made from freshly-mined metal, around 20 tonnes of toxic waste is generated, because of the chemicals that are used in the gold mining industry. This is one reason why many people will only buy 'ethical gold' nowadays.
Currently, around a third of the gold that is needed every year comes from recycled supplies – whether that is to make new jewellery, gold bars, ingots and coins for investors, or for use in technology such as smartphones and laptops.
By hunting through your unwanted gold items at home and selling them on for cash, you'll be playing your part in increasing the proportion of 'old' gold that's available to use again – and helping the environment at the same time.
If you are unsure whether the items that you find would be suitable for recycling, feel free to call our Customer Service Team on 01902 828 400, we are here to help.
Read More
---