Local Staffordshire Gold Hoard Discovered
Published Friday 27th November 2009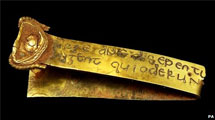 A gold hoard of more than 1500 individual gold and silver pieces has been discovered by an armature metal detector enthusiast in a field near Burntwood, Staffordshire - approximately 15 miles from our Scrap Gold offices in Birmingham.
The collect consists of 5kg of gold and 2.5kg of silver comprises of weapons and helmet decorations, coins and Christian crosses and is through to be the spoils from a 7th century raiding party of warring Mercian's.
While the treasure has remained buried beneath the soil for more than 1,300 years, it's certainly not considered scrap gold!
The find was first put on display in Birmingham before a final evaluation on the find this week put its value at £3.285 million. Birmingham City council now hope to acquire the treasure to put on permanent public display and are currently raising money to complete the purchase.
The find site remains a secret as archaeologists and a specialist search team from the Home Office scour the field for further discoveries though to date nothing further has been found. Experts think the treasure was brought closer to the surface this year as the field was ploughed deeper than usual.