How much is your 20 pence worth?
Published Monday 29th June 2009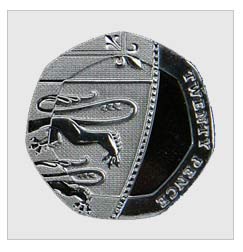 It might be a bit more than just 20p...
The London mint, responsible for minting UK pounds sterling coinage have mistakenly omitted the date from around 50,000 brand new 20 pence coins!
They have now issued a call back, offering the public £50 for each 20p coin they return missing a date.
The new 20p coin as shown below is missing the date stamp from the rear of the coin...
The error has come about because the new set of coins, including new set of £1, 50p, 20p, 10p, 5p and copper 1p and 2p coins have been created with a new design on the rear. In most cases the new coins only required a change to the rear of the coin - The 20p coins however required a redesign to both sides. The old 20p coin featured the date on the rear of the coin but with the new design this needed to be added to the front of the coin with the queen's head - Unfortunately, the Royal London Mint forgot to make the change and add the date before the first batch were coined and released to the public.
How to you claim your £50? The Royal London Mint has setup a web site to register any dateless coins at www.undated20p.com.