Gold makes a September surge
Published Thursday 17th September 2009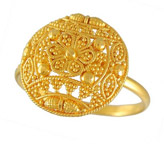 The start of the autumn season has brought an instant and not uncommon surge in the price of gold - The price has risen from around £568 an ounce in mid August to £610 / ounce as of the 5th September 2009. Many experts believe the price is set to rise further over the coming weeks.
There is a common trend for the gold price to rise this time of year thanks to the pending Indian wedding season starting in October. Gold jewellery is traditionally a very popular gift at Indian weddings, friends and family purchase gold in the weeks leading up to the October wedding season, thus driving up the gold price as the global demand increases.
Our Scrap Gold purchase price closely follows the daily UK spot price, so with this annual price surge reaching its climax in mid to late September, now is an ideal time to release the value of you scrap gold jewellery and coins.