Expense of Christmas mounting up?
Published Thursday 17th December 2009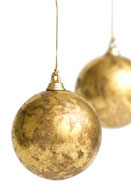 Looking to make some extra cash for Christmas?
That time of year is here again, Christmas is upon us... the gifts, the food, the decorations - the cost quickly mounts up! Let's face it, Christmas is expensive! But don't panic, the answer may be closer than you think - tucked away in an old jewellery box, down the back of the bedside cabinet or hidden away in that draw that everyone has in their kitchen but doesn't dare open - crammed full of old batteries, screws and long forgotten gems! Your old unwanted gold and silver jewellery may be worth more than you think and stretch a bit further than just a few Christmas presents!
Scrap Gold UK are currently paying £8.39 per gram of 9 carat gold (Price correct as of 17-DEC-2009), with the 8% refining charge deducted, you'll receive £7.72 for each and every gram of 9 carat gold you send to us to put towards the cost of Christmas - Don't leave that old watch or unworn necklace lying around, send it to Scrap Gold UK and make some real money this Christmas!